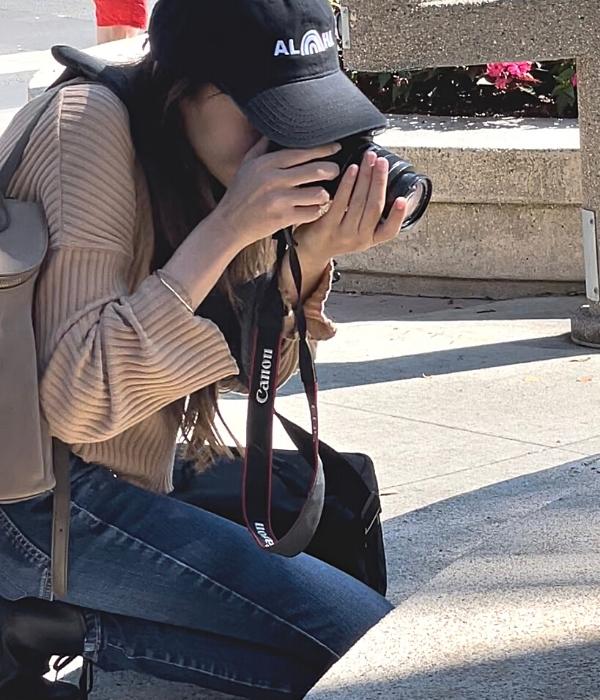 Kailua Through the Lens of a Budding New Photographer
Global Village Kailua - March 29, 2022
Kailua Through the Lens of a Budding New Photographer
photo by Noelani Glorioso, Mokulua Islands
Kailua inspires Noelaniʻs new passion for photography
Kailua boasts many picturesque spots to take photos. Itʻs a town surrounded by nature – beautiful hikes, beaches and small town charm flair. Noe Glorioso, a high school sophomore, shares how she developed her interest in photography and her favorite spots in Kailua to capture with her camera.
photo by Noelani Glorioso, dad hat Mokulua Islands
When did you first become interested in photography? I first became interested in photography when the school year started in 2021, not too long ago. I had never thought about photography as something I would enjoy and I had never really learned how to use a professional camera nor photo editing. But now itʻs something I do as a hobby.

What do you like to take photos of? My favorite is nature along with animals. They have natural beauty that isnʻt rushed nor posed, but show emotions in a photo.

List the top 3 spots in Kailua where you like to take photos.
1. Kailua Town: I like this spot because itʻs a small friendly town. Itʻs a very local, beautiful, community of shops and people.
2. Along Kailua Bay: Itʻs a nice long beach walk with people walking their dogs, playing in the water, or just out on a walk. Mornings along these beaches are absolutely gorgeous as the sun is coming up.
3. ʻAikahi Park: Itʻs nice to take a walk around there with my friends or dogs. Itʻs a dog friendly place with many familiar faces.
photos by Noelani Glorioso: shopping around Kailua Town and Fountain in Kailua Town
What is your experience with photography? I really enjoy photography and so far I have had a great experience with it. I get good feedback on my work that helps me improve and I have learned many different types of images you can take like shutter speed and aperture.

Where do you find inspiration for taking photos? I find inspiration for my photos from people, friends, and family around me that I share my photos with. I love seeing the faces of people who see my photos and it makes me want to go out and capture more moments for photography.

Whatʻs your advice for someone who has no experience with photography but wants to learn? I would say after learning how to use a camera, go outside and take many photos and experiment with them. Donʻt just take one image at a single angle, capture many at different points of views. And once you find your favorite subject to capture (people, nature, etc.) go have fun with it, keep on experimenting, and make it look different.
Liquid error (sections/pf-52cc5054 line 52): product form must be given a product
Article credit : Dawn Ravelo